INTERNATIONAL EDUCATION AND COOPERATION INSTITUTE (IEC)
International Education and Cooperation Institute (IEC) belongs to Ho Chi Minh City University of Transport. IEC operates in the fields of international cooperation, joint training, scientific research cooperation, technology transfer, development and application of advanced technologies in the world in education and training, developing a team of intellectuals with a modern vision and working style, meeting the needs of developing society in the period of integration and globalization.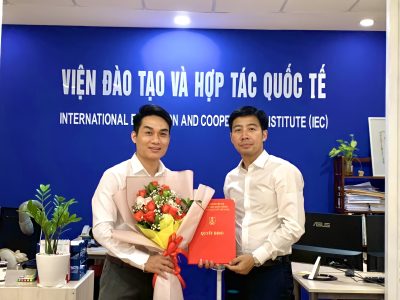 Dr. Nguyen Tuan Anh – Director of IEC (Left)
The list of IEC staff members Here
Ho Chi Minh City University of Transport (UT-HCMC) is a public university directly under the Ministry of Transport. Currently, UT-HCMC is the largest multidisciplinary training university in the field of maritime and transport sector in the South of Vietnam. Over 30 years of establishment and development (1988), UT- HCMC has been training and supplying the labor market with thousands of managers serving the development of the transport industry in particular and the country in general. The university's missions are to train and provide high quality graduates and postgraduates specializing in science, technology, technique and management in the transport sector; carry out scientific research, technology transfer activities in the transport and relevant sectors to meet the requirements of industrialization –  modernization and international integration. By 2030, Ho Chi Minh City University of Transport strives to become one of the key multi-disciplinary universities in Viet Nam; the top scientific research and training center in the transport section; a prestigious and highly advanced university in the region as well as all over the world.
Main Office of the International Education and Cooperation Institute (IEC) – Building D, the main campus of Ho Chi Minh City University of Transport
Along with the common development goal of the UT-HCMC, IEC constantly strives to improve training and service quality for students, promote the development of joint training with international universities around the world, and provide high quality graduate and postgraduate human resources to meet the needs of the market. Currently, IEC is assigned by the university to manage international association programs with industries and occupations that are lacking current and future labor resources.
For more international cooperation program's information:
+ International Undergraduate Programs: here
+ International Master Programs: here
Contact:
IEC Admissions and Communication Department
Hotline: 09066816588
Fanpage: https://www.facebook.com/IEC.GTVT
Email: iec@ut.edu.vn