At the end of 2020 and the beginning of 2021, the enormous impact of Covid-19 pandemic affected the learning progress of students in general and those from Joint-training programs in particular. In order to ensure that it does not affect the overall learning progress of joint-training program students and their safety and health, Ho Chi Minh City University of Transport and our partner (Korea Tongmyong University)  continuously held online meetings with each other to find timely solutions to best support the joint-training program students.
According to the report of International Education and Cooperation Institute (IEC) – the unit managing the implementation of the Joint-Training Program, the Institute had organized 2 visa application phases for students of the joint-training program:
+ Phase 1 in September 2020
+ Phase 2 in March 2021
In total, 42/42 visa applications were approved. These students were transferred to Korea Tongmyong University in their last 2 years (100% rate).
After being granted a Visa, students went for a Covid-19 test and prepared related procedures to ensure the safest flight to Korea. All 42 students majoring in Logistics and Port Management (year 2018) – Joint-Training Program with Tongmyong University Korea landed at Incheon International Airport, Korea. After getting off the airport, students travelled on high speed rail to Busan City, got a free Covid test right after getting off the train. South Korea's Tongmyong University organized a special vehicle to bring them to their hotels for quarantine with the prescribed time. Each student was arranged to stay in one hotel room, provided food and drink during the quarantine process. South Korea's Tongmyong University sponsored 50% of the costs (equivalent to 14 million VND) for students during the time they were quarantined here.
At the end of the quarantine period at the Hotel, all 42 students were picked up by South Korea's Tongmyong University and admitted according to regulations. Currently, they are staying safely in the dormitory of South Korea's Tongmyong University and continue to study in their 2 last years here.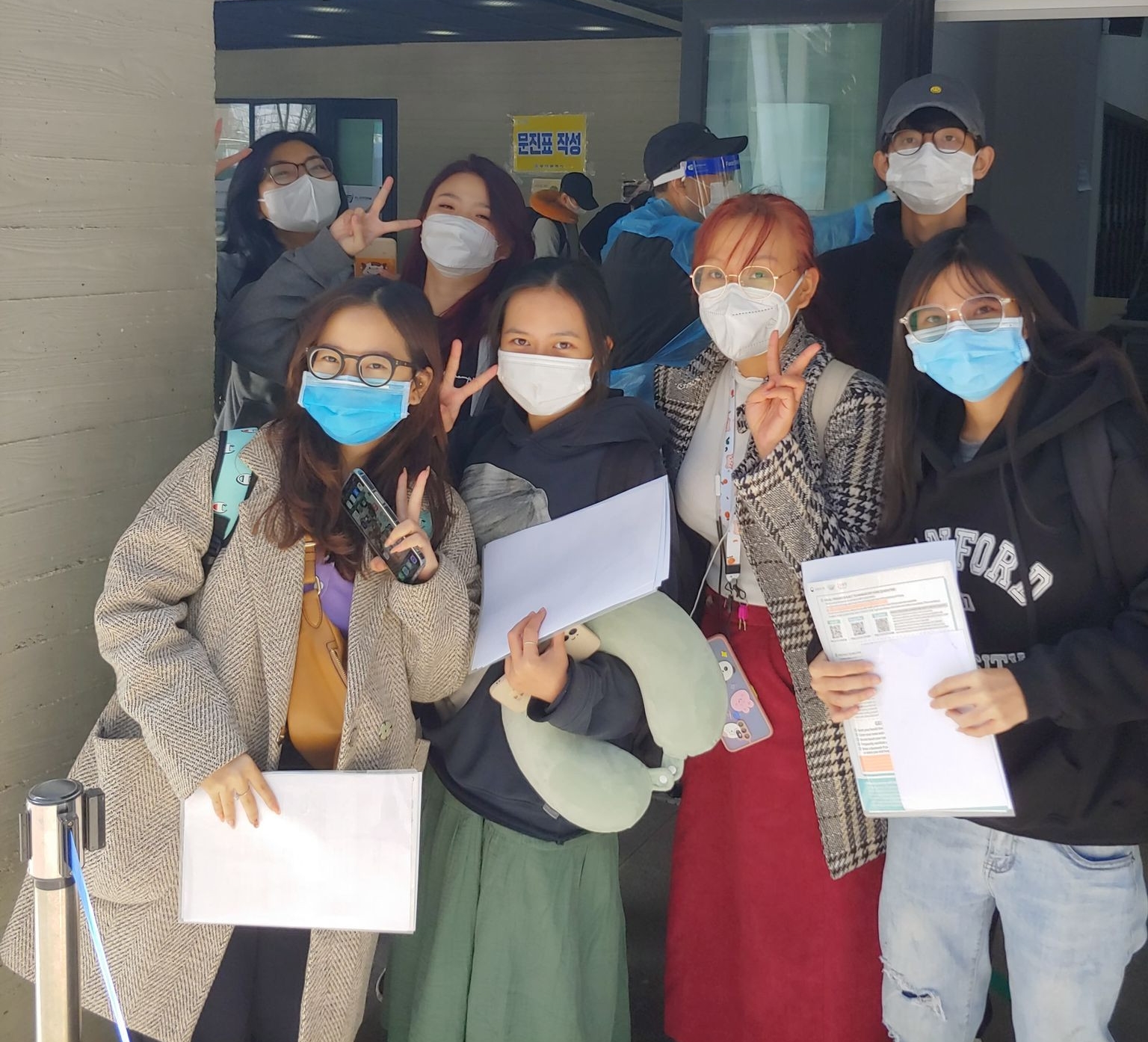 Photo. Students on the trip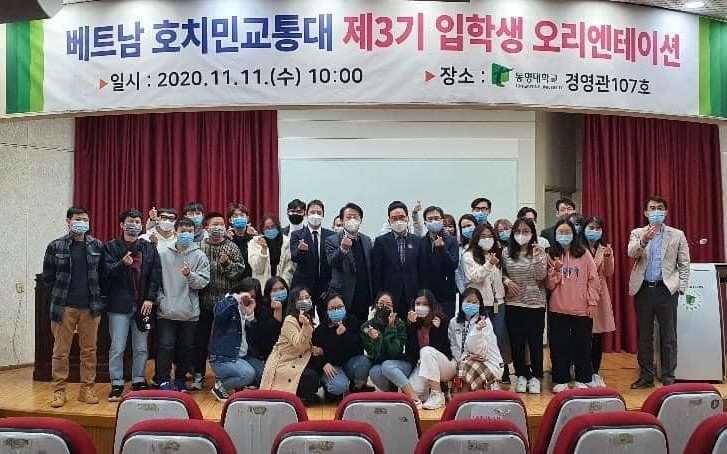 Photo. Students meet leaders of Tongmyong University, South Korea
Logistics and Port Management Program
The program lasts in 4 years, and is conducted entirely in English. The subjects are selected based on 3 main contents: Port development & operation, international transport & logistics and supply chain management. In addition, the program also provides students with knowledge about Korean language and culture, helping them better integrate into the academic environment in Korea as well as into their later works.
In the first 2 years, students study at the Ho Chi Minh City University of Transport and are taught by qualified teachers. All of them have good foreign language skills that meet the requirements of the joint-training program. For subjects that require a lot of practice, the university invites lecturers from prestigious corporations to teach, contributing to a wealth of knowledge and practical experience. In addition to class sessions, students will participate in experiments and internships at ports and logistics companies. In the last 2 years, students study at Tongmyong University, South Korea and are taught by professors and doctors from Department of International Logistics. This 2-year training program includes many practical subjects and projects, that will help equip students with sufficient knowledge and skills so that they can jump right in after their graduation.
---
Admissions and Communication Department – International Education and Cooperation Institute (IEC)
Hotline: 0906681588