Tran Bao Nguyen is a talented student majoring in Logistics and Port Management, intake 2018, which is a joint-training program between HCM University of Transport and Tongmyong University, South Korea. Tran Bao Nguyen excellently achieved IELTS 8.0 and received the full tuition scholarship from South Korea's Tongmyong University. In 2018, she also excellently received the valedictorian scholarship from International Education and Cooperation Institute (IEC) that is worth VND 50 million. Currently, she's about to enter the 4th year and is studying at Tongmyong University in South Korea. This is her sharing about studying in South Korea and how she feels about winning the full scholarship:
"What I like most about studying at Tongmyong University is that the professors are all very considerate and caring about the students. Although during the time of the Covid-19 epidemic, we do not get to meet the professors directly, but they always ask if our health and life were okay and if we need any help. In addition, the lessons that the professors deliver are very new and useful for a student of Logistics.
Not only that, South Korea's Tongmyong University is a dynamic learning environment that helps me not only acquire knowledge more quickly in class but also create new ideas with other students through teamwork and extracurricular activities. Studying at Tongmyong helps us horn our skills and acquire valuable knowledge from the professors here.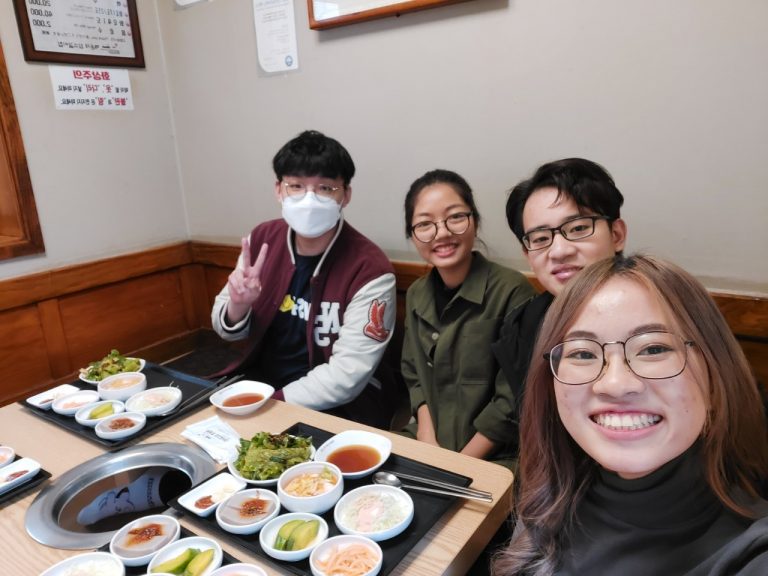 Photo. Bao Nguyen and her friends in a gathering with Korean students
In addition to classroom lessons, South Korea's Tongmyong University also supports students in finding job opportunities in South Korea with "Job Fairs" where they discuss the process and experience required to work in South Korea. Or if you are a student who wants to work part-time while studying, the school also has a job search group to support you. In addition, those who study Logistics and Port Management like me will have the opportunity to visit Busan Port, the largest port in Korea and among the world's largest ones as well as take part in other extracurricular activities.
I feel very proud and happy to be one of the students who achieved the full scholarship because I have partly relieved the financial burden for my family. I also thank Tongmyong University so much for giving many scholarships to international students.
If you want to experience life in Korea, Tongmyong University is a very good choice for you."
Photo. South Korea's Tongmyong University