Owning an outstanding education system, South Korea always attracts a large number of international students every year. However, among so many universities in South Korea, which one is the right place for you? In this article, IEC would like to introduce you to Tongmyong University, Busan, South Korea along with 6 reasons why it is a good choice that you should consider.
1. High-quality practical multidisciplinary training
Tongmyong is a multidisciplinary university, that provides training in many levels: from bachelor, master to doctorate and in many different fields: Engineering, Business Administration, Health, Welfare and Education, Architecture and Design, Social Sciences and Humanities, etc. The university has nearly 600 lecturers, more than 9000 students, including nearly 1000 international students. The university's competitive admission rate is the highest in Busan.
Tongmyong University's educational goal is to cultivate human resources based on professional knowledge and technology. The university always strives to create high-quality cooperation with businesses and aims at developing student-centered programs so that students can reach their full potential and keep up with the ever-changing world in this day and age.
With this vision and goal, after only 25 years since its recognition as a non-public university, Tongmyong University has risen to the top 130 universities in South Korea, and top 10 universities in Busan.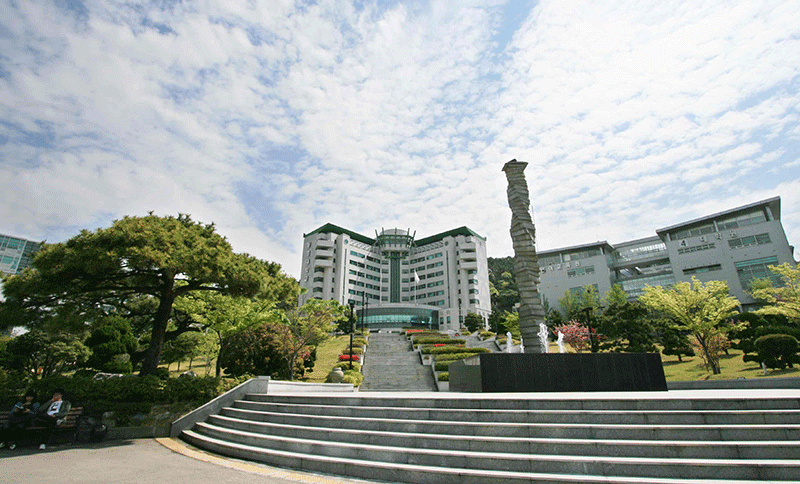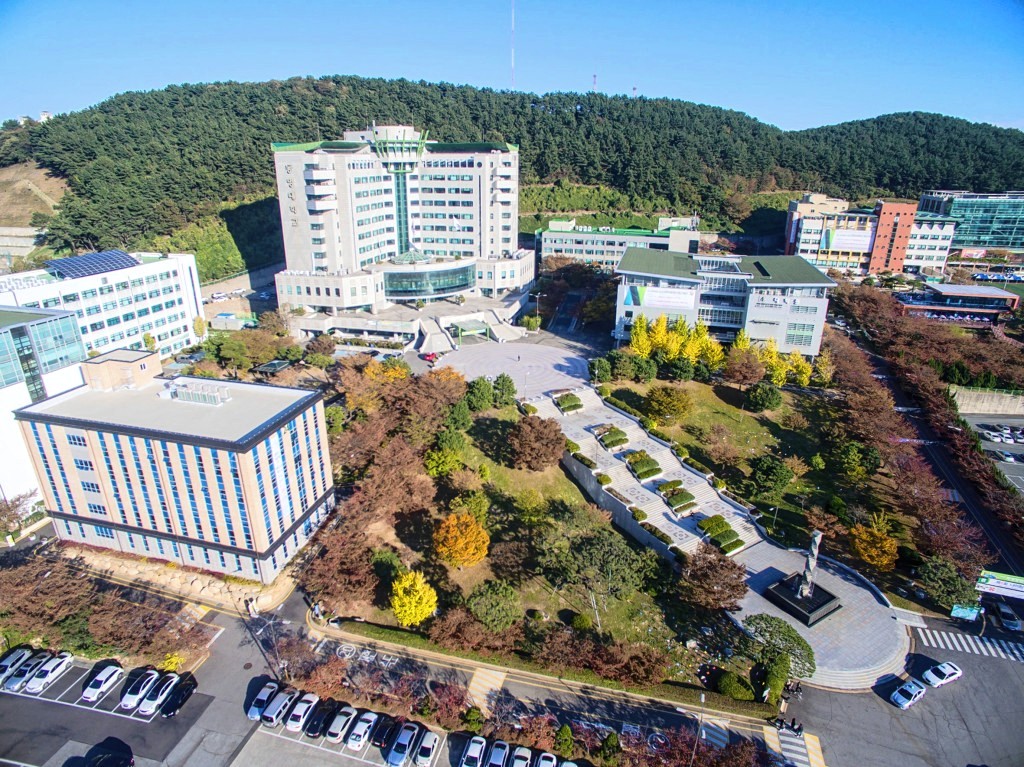 Photo. The panorama of Tongmyong University, South Korea
Besides, the university also has close connections with more than 1500 domestic and international enterprises. As a result, students' chances to find a job after graduation are very high. The university has the highest employment rate for graduates among non-public universities in South Korea.
  2. A favorable location
Tongmyong University is located in Nam-gu, the port city of Busan, South Korea. Busan is the logistics hub of Northeast Asia, the second largest city in South Korea, after Seoul. Busan is famous for its vibrant lifestyle, diverse culture and many high-quality universities and reasonable tuition fees.
The Port of Busan is the largest port in Korea and one of the 6 busiest ports in the world.
Busan is ranked by American Association of Port Authorities as the third largest seaport in the world by cargo volume and transport capacity.
Photo. Port of Busan, South Korea and the location of Tongmyong University
Therefore, in addition to being professionally trained, international students also have the opportunity to gain life experience, explore culture and enrich their knowledge about the world.
  3. Strengths in many fields
With its geographical advantages, Tongmyong University is a prestigious training center for ports, freight traffic, and tourism. Students with these majors have the chance to learn and gain practical perspectives on the industry they are pursuing.
Besides, IT is also a special strength of the university. Tongmyong University is the first university in South Korea to build and develop a supercomputing application convergence center. In partnership with leading IT corporations, this center is equipped with cutting-edge computer graphics, special visual effects and futuristic imaging technologies. These apps will be used to research and train future IT professionals (Watch Tongmyong university clip here)
Korean language training program also helps make the university's name. Started in 2003, this program is mainly designed for foreigners and overseas Koreans who do not speak Korean as an official language.
  4. An ideal learning environment
Besides modern facilities and equipment to serve the needs of learning and research, the university also built a main library with 5 floors with a total area of more than 11000m2. Each floor of the library is arranged with reference rooms for each theme and has a separate team of librarians.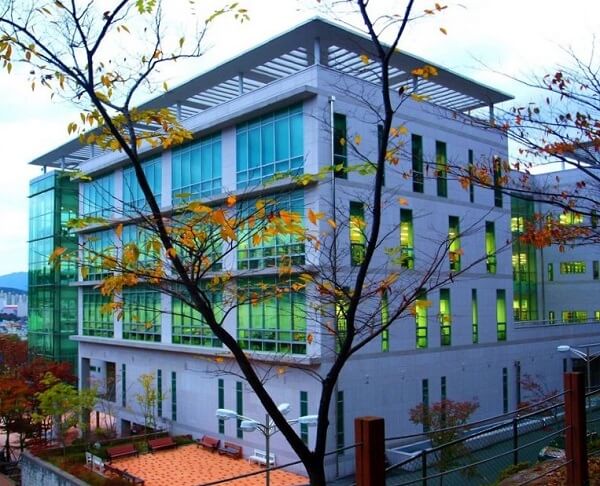 Photo. Tongmyong University Library
The dormitory is also fully equipped with facilities such as self-study room, common room, kitchen, dining room, laundry room, etc. In addition, the university also provides other facilities such as coffee shop, stationery store, photography room, hair salon, bookstore, eyewear shop, photocopy shop, multi-function field, gym, etc.
With the university's favorable location, students often participate in field trips and internships right in the city. Besides, the university also offers international students with many opportunities to participate in cultural experiences such as sight-seeing, talent contests, Korean history knowledge contests.
  5. Many scholarships of great value that are not limited in number
Tongmyong University is one of the universities with the most scholarships for international students in both undergraduate and graduate programs. Specifically, for undergraduate programs, students can achieve scholarships from 20-100% tuition fees depending on their TOPIK Korean language level.
TOPIK 6: 100% tuition fee
TOPIK 5: 60% tuition
TOPIK 4: 40 ~ 50% tuition fee
TOPIK 3: 30 ~ 40% tuition fee
TOPIK 2: 20 ~ 30% the tuition fee
For graduate programs, the scholarships are at 40-50% tuition fee based on the scores in TOPIK, IELTS or other related certificates.
TOPIK 4, IELTS 6.0, TOEFL 85, TOEFL PBT 563, TEPS 600 VND or more: 50% tuition fee
TOPIK 3, IELTS 5.5, TOEFL 80, TOEFL PBT 550, TEPS 550 VND or more: 40% tuition fee
Besides, the university also has many scholarships for those studying Korean language at Tongmyong University. Students who achieve TOPIK 4 or above one month before the end of Korean language course will receive a scholarship worth as follows:
Students who achieve TOPIK 4: receive a scholarship of 600,000 Won.
Students who achieve TOPIK 5: receive a scholarship of 900,000 Won.
Students who achieve TOPIK 6: receive a scholarship of 1,200,000 Won.
  6. Many international joint Bachelor programs
In order to create more opportunities for international students to study at the university, Tongmyong University has cooperated with many universities around the world to organize international joint programs, including the HCMC University of Transport.
The international joint Bachelor program in Logistics and Port Management conducted by the two universities since 2016 has received a lot of attention and been chosen by many young people thank to its outstanding advantages: international degrees, a dynamic 100% English speaking environment, experienced lecturers, opportunities for practical experience, cost efficiency, etc. In addition, the program has a relatively low tuition fee compared to other joint programs and has many valuable scholarships for students. Learn more about the program here.
In the near future, HCMC University of Transport will continue to cooperate with Tongmyong University to organize the joint Bachelor program in Artificial Intelligence (AI). This high-quality training program will be suitable for young people who are passionate about technology because of the increasing application of this technology in life. Learn more about the program here.
With the above advantages, we believe that Tongmyong University is a good choice if you are planning to study in South Korea.
IEC