On June 17, 2021, the seminar "Global supply chain – Students' perspectives from Vietnam and USA" was organized by the Ho Chi Minh City University of Transport (Vietnam) and Highline College (USA) on the online platform. This is the second seminar jointly conducted by the two universities to help lecturers and students have many opportunities to connect, exchange, and learn experiences and practices in the field of logistics (previously, the first seminar was held on March 12, 2021, with the subject "Logistics industry in Vietnam and USA: Reality, Trends and Covid-19 impacts").
With in-class knowledge and practical sessions and with an English level of IELTS 5.5 or higher, two groups of students from the International Program of the University of Transport, Ho Chi Minh City participated in the meeting with outstanding performance at this Conference, with 2 presentations which were highly appreciated by the US Professor.
Subject: VINAMILK SUPPLY CHAIN, a group of students including:
Bui Thanh Uyen – IEC19PL
Uong Si Vinh – IEC19PL
Vo Hung Tuong – IEC19PL
Vo Tuong Vy – IEC19PL
Le Nguyen Yen Xuan – IEC19PL
Hoang Thi Thao Vy – IEC19PL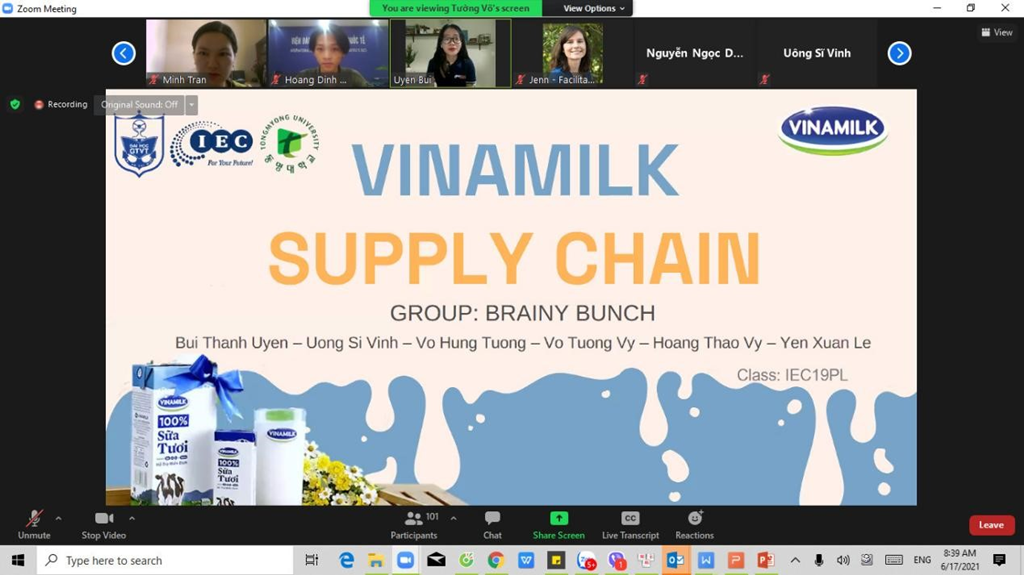 VINAMILK SUPPLY CHAIN
Subject: TRUNG NGUYEN COFFEE SUPPLY CHAIN, a group of students including:
Pham Quang Minh – IEC19PL
From Nhat Nam – IEC19PL
Ho Xuan Phat – IEC19PL
Nguyen Huu Nam – IEC19PL
Vu Thien Minh – IEC19PL
Nguyen Hoang Nam – IEC19PL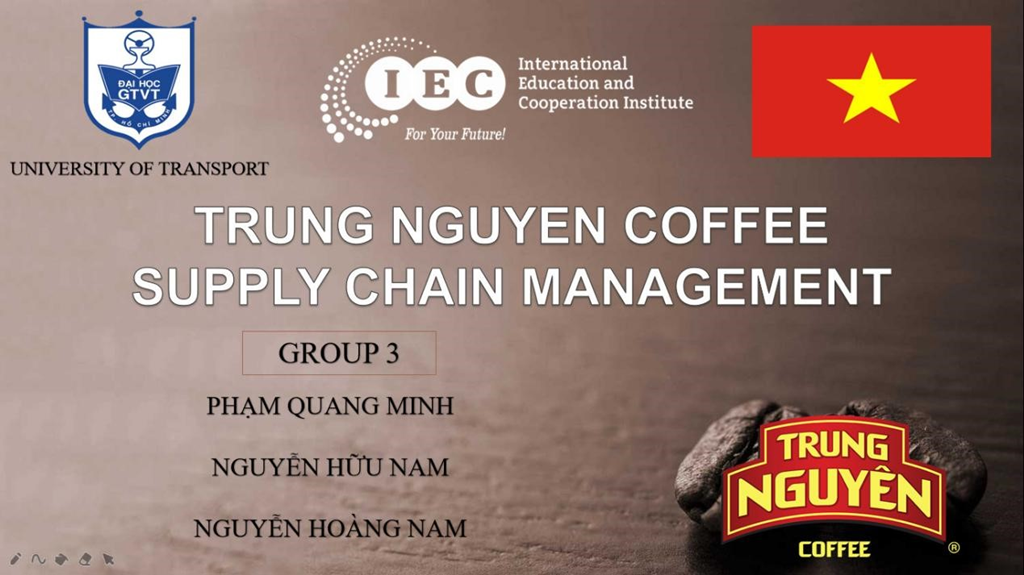 TRUNG NGUYEN COFFEE SUPPLY CHAIN
Two topics discussed by international students with international friends are about supply chain management of two leading companies/groups in Vietnam, having a large market in the world – This is a key factor in global supply chain management.
After the presentation of the students of the two schools, "Breakout rooms" was held to create cohesion, information exchange between students from the two universities as well as discussion around the topic "Covid-19 vaccines and what has been happening logistically with each country?", which attracted a lot of attention for the time being. The students from the two universities confidently shared information about the Covid-19 vaccine in the two countries as follows: the type of vaccine being used, the situation of vaccine import and production, logistics issues for the COVID-19 vaccine, and solutions.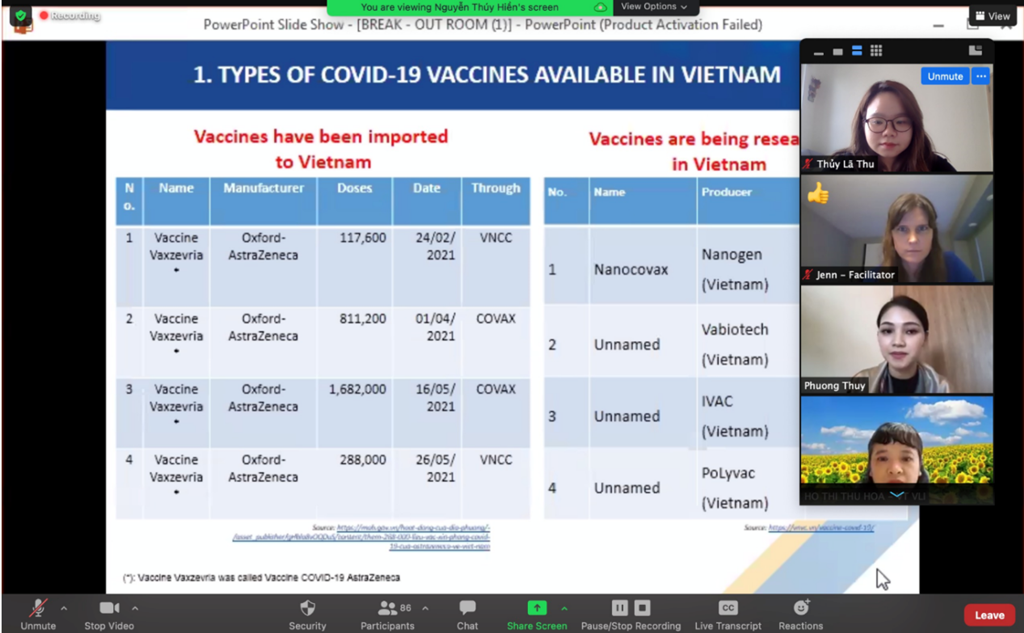 "Covid-19 vaccines and what has been happening logistically with each country?"
– Topics discussed in groups by students in the "Breakout Room" session
The international conference is one of the activities (besides the trips: practical experience, international student exchange, etc.) focused by the school in order to help the students of the international program have the opportunities to exchange, learn and expand knowledge, especially the supply chain of some industries of Vietnam and the US, … and learn a lot of knowledge from the practical sharing of the lecturers from the two universities.
IEC