Student Mai Pham Bao Nhi is a familiar name at the University of Transport in Ho Chi Minh City. Because she is one of the excellent students who received a full scholarship for the last 2 years of study in Korea with a major in Port Management and Logistics at Tongmyong University.
Bao Nhi is a student of the 17th class of the international cooperation program between the University of Transport of Ho Chi Minh City. Ho Chi Minh City and Tongmyong University of Korea majoring in Port Management and Logistics (this is the first joint training program in Logistics in Vietnam approved by the Ministry of Education and Training). Bao Nhi will share with us about her feelings when studying and experiencing the international affiliate program:
"Hello everyone!
My name is Mai Pham Bao Nhi, a student of class 17 – also the 2nd course of the 2+2 partnership program between the University of Transport of Ho Chi Minh City. Ho Chi Minh City and Tongmyong University majoring in Port Management and Logistics.
"Destiny" are two words that I always mention when I talk about my university career. Knowing about the program through relatives, I hastily submitted my application because there were only a few days left to close the admission gate. I still remember that after only a few days since I submitted my application, I started having an English entrance exam, as well as starting the first subjects.
At the welcome ceremony for new students, I was suddenly informed that I had received the Companion scholarship; When I received it, I kept shaking because I couldn't believe that I had no education. When I went to apply, I didn't know there was an entrance scholarship, but the admission sister told me: "My university exam score is also high, I can get an entrance scholarship", I just listened to it. I just passed without thinking much, I was lucky enough to receive it.
My freshman year started with a series of mornings majoring in IELTS in the afternoon. When I was studying, IEC did not have a clear and thorough Ielts review schedule like now, so I also faced many difficulties. English is not good, so it's hard to study majors, fortunately the school and teachers also support, so not only myself but also the whole class feel easier to breathe, especially difficult subjects.
The visit to Cat Lai port was the first field trip of my class, at this time I have not majored, so I only went to see it, but it also opened my eyes to many things, and understood more about the industry and direction. mine.
It's about learning, what about extracurricular activities? Unlike other training systems, I do not participate in military programs or club activities; we have other activities, more international exchange. For example, at the end of the first semester of the first year, me and a group of Ielts classmates – we call it Ielts 2 class, were honored to hold a welcoming ceremony for the students of National Taiwan University of Oceania. This is a memorable memory in my student life, making friends as well as having fun activities with teachers and friends at home and abroad.
Another memorable memory in the first year, exactly in the summer of the first year, during the course of "Market Research", me and two other friends were favored by Mr. Ho Cao Viet for a summer scholarship. Summer in Thailand for 2 weeks. When joining the brothers and sisters, the teachers at IEC also support us a lot.
In addition, at the end of the first year, I also preferred to choose a class representative along with students from other faculties and departments to offer incense and flowers to President Ho Chi Minh at Nha Rong Wharf and received the title of "Thanh Hoa". advanced years following Uncle Ho's words in 2018″.
In the second year of university, at the opening ceremony of the new school year, I was informed that I had received a certificate of merit and an award from the school for having the best academic performance in the 2017-2018 school year.
This second year, my friends and I focus more on studying to be able to transition to the second stage, so we rarely participate in movement activities. We started to have more assignments, field trips organized by the school as well as self-study to complete the assignments. I also focus on preparing for the IELTS exam to be eligible for transfer as well as a better English foundation for the last two years of study.
At the end of the second year, my class was informed about the essay and interview contest for 2 50% scholarships and 1 100% tuition fee scholarship for the last 2 years in Korea. I also ventured to participate with the thought that trying to get a 50% scholarship is very lucky, because my English is still limited compared to others. In the first round, I wrote an essay on the topic given by the school: "What traits do you have that will enhance your education and future employment?" In the second round, I was quite nervous because the interview was face-to-face and entirely in English; The two sisters who interviewed me were very cute, felt that I was stressed, so they also comforted me… After about 2 weeks, I remember that day when I was taking the final exam of Financial Accounting – Financial Accounting, I received the results. About the scholarship, I was overwhelmed with emotions when I heard that 100% of the scholarship was received, because I had never thought of this, even more surprised when I and the second friend were only 0.1 points apart…
After completing all the subjects and getting the IELTS, I and my friends started making documents to transfer; For me, the application process does not have any problems, I just need to prepare what the Institute proposes and submit, I don't need to do anything, by the day I go to the Consulate to submit the approved documents. Just prepare and wait for the results. After 2 years of study, we were able to hold a small ceremony to award scholarships and transfer procedures, in addition to reward for the past school year, revealing that I continued to keep the title of student. the best lock it! Besides, the institute also organized a small farewell party for students, parents and the school…
So half way has passed. We continue this journey but in another school.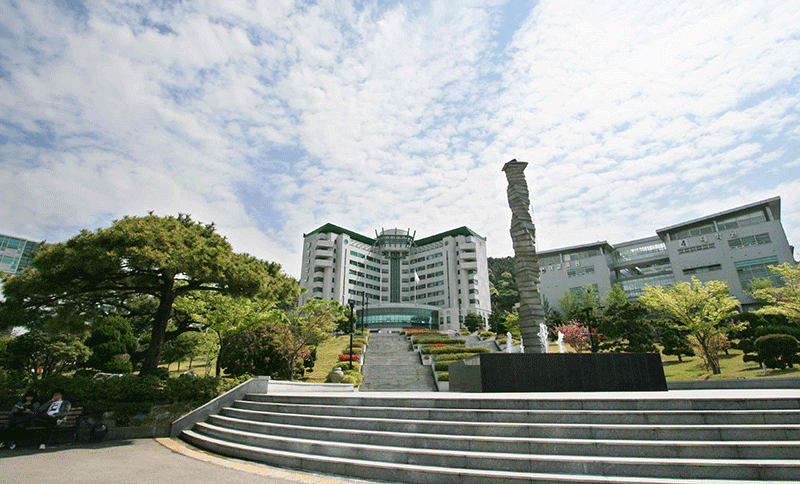 Tongmyong University, Korea
August 25, 2019, we are officially on the road. Just got off Gimhae airport, Busan Tongmyong school sent a manager and a Vietnamese guy to pick us up straight to the dormitory, then we were led to the school to complete the necessary admission procedures. Before enrolling, we had an orientation session at the beginning of the school year, we were instructed about the class schedule, how to access the website to see grades, scholarships, pay tuition fees… On September 2, 2019, we started school. the beginning of the first semester. All the professors, teachers, and instructors are very enthusiastic to help us, there are Vietnamese brothers and sisters to guide and interpret, so you are not afraid of the language barrier!
Regarding learning, I have studied with many good professors, have "terrible" profiles, but the teachers are very good and very enthusiastic, not only interested in learning, the professors are also very curious about our lives. me. We also had the opportunity to visit and learn practically, for example, we could visit the Busan Port Authority – the 6th largest port in the world, take a cruise around the port… In addition, there was an organization at the faculty. academic competitions, for example, I can participate in the Faculty's International Logistics Day 2019! Within the framework of the program, there are 3 contest categories and our class can participate in 2/3 of the categories: 1 is a team competition, and 2 is an individual contest using another language (for example, you are Vietnamese). Men are not allowed to give presentations in Vietnamese or English, but must give presentations in Korean, Chinese…. Let me tell you, the value of the prize is very high, the first prize is up to 4 million VND for 1 student. not a group.) I also participated in the team competition and very fortunately my group (including me and 2 other boys) won the first prize. Besides the contest of the faculty, I also participated in another contest of the school, this contest was a combination of Vietnamese and Korean students to discuss and devise marketing strategies for the products of companies that the experts knew about. proposed school. Thanks to this contest, I made some Korean friends, took them to eat specialties and go sightseeing… Also fortunately, my group won the third prize of the contest and the prize was up. up to 10 million VND, in addition, I also participated in the "lemongrass" party to receive the prize…
Besides studying, you and I can also participate in fun activities and other cultural exchanges. Every September, Tongmyong University will have a school festival, this festival takes place in 3 days on a very large scale. The week before the festival, there are many activities in the school yard such as selling old clothes, games organized by clubs, water carts or street food that is allowed to be sold on campus. 3 days that the festival takes place, each day will have different singing activities, no different from a corncert; I attend a school festival to invite famous rappers to perform, but because I don't listen to rap, I don't know who they are, I only see boys in my class "dancing" with all their might, me and my girls." rocking" mist so hoarse voice. In addition, there are food stalls sold by student unions, there are also stalls of Vietnamese students… If you ever come to Tongmyong University, you definitely have to attend the school festival once, it's very difficult. forget that! However, due to the epidemic, the school did not organize it in the fourth year.
My class also participates in another activity with Korean friends, this activity is just an international exchange activity: visit and take pictures of the food places that we go together, however. The school also supports the cost of food for us (this cost is not small, everyone).
In addition, I also participated in a picnic to the island to learn how to make Korean traditional cakes and to dig potatoes… There were also volunteer activities such as picking up trash, volunteering, and being invited back by the teachers to eat beef rib soup. super delicious.
Well, most recently, I participated in the contest to make Youtube videos for marketing activities of Tongmyong University and also won the first prize! If you want to know what I and my 2 teammates make videos about, please find the Tongmyong University TU Global channel (my group is TUS team).
Due to the impact of the Covid 19 epidemic, the school does not organize as many programs as before, which is a bit of a pity, but fortunately, the outstanding activities I also had the opportunity to experience. The time I write these sharing lines is exactly one month from the end of this 4-year journey, I myself have experienced a lot of emotions and have matured a lot. Finally, I would also like to thank all the professors, teachers, brothers, sisters, friends and family who have supported and supported me on this journey to the future. …
Busan, 23/05/2021″
News article: Student Mai Pham Bao Nhi and IEC Institute